News Oga| Gossip Blog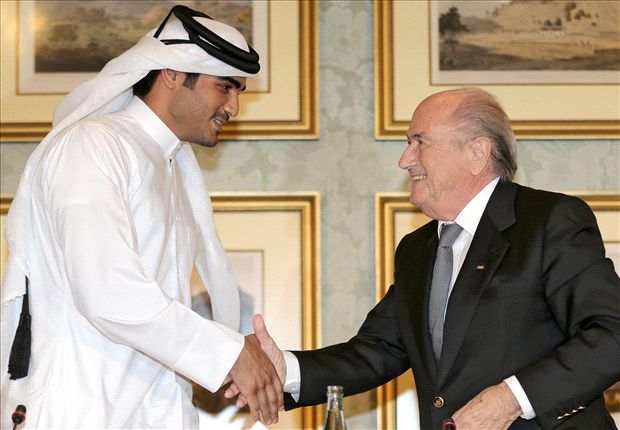 After Fifa announced plans to hold the 2022 tournament in November and December in Qatar, Goal looks at the impact on players, clubs, competitions and continents
COMMENT
There was global outrage on Tuesday when Fifa announced that World Cup 2022 would be held in November and December of that year.
A Fifa task force explained that the tournament needed to be pushed back from its usual start date in June in order to avoid Qatar's searing summer heat - with a final decision to be ratified in March.
Fifa's response was typically bullish, with secretary general Jerome Valcke saying: "There will be no compensation. There are seven years to reorganise."
Although the exact dates are to be finalised, it is speculated that the opening game of Qatar 2022 could be on November 26, with the final on December 23.
The decision to hold the World Cup in the last two months of the year will cause chaos to the traditional football calendar – and will have massive implications both on and off the pitch.
A winter World Cup would wreak havoc in Europe, where major domestic leagues generally run from August until May. National teams require at least three weeks to prepare for tournaments – meaning that as many as nine league matches will have to be rearranged in some European championships, around a quarter of the season. Then there are domestic cup competitions to take into account.
Rescheduling these games will not be easy. The natural solution is to start the domestic season earlier and/or finish it later but this will prove problematic.
"It will clearly disrupt the whole football calendar as it means club football stopping at the end of October," English FA chairman Greg Dyke complained.
"You might be able to keep the disruption to one season if you start earlier and end later but it's going to be tough - and unnecessary because we would not be doing this if Fifa had done its work properly."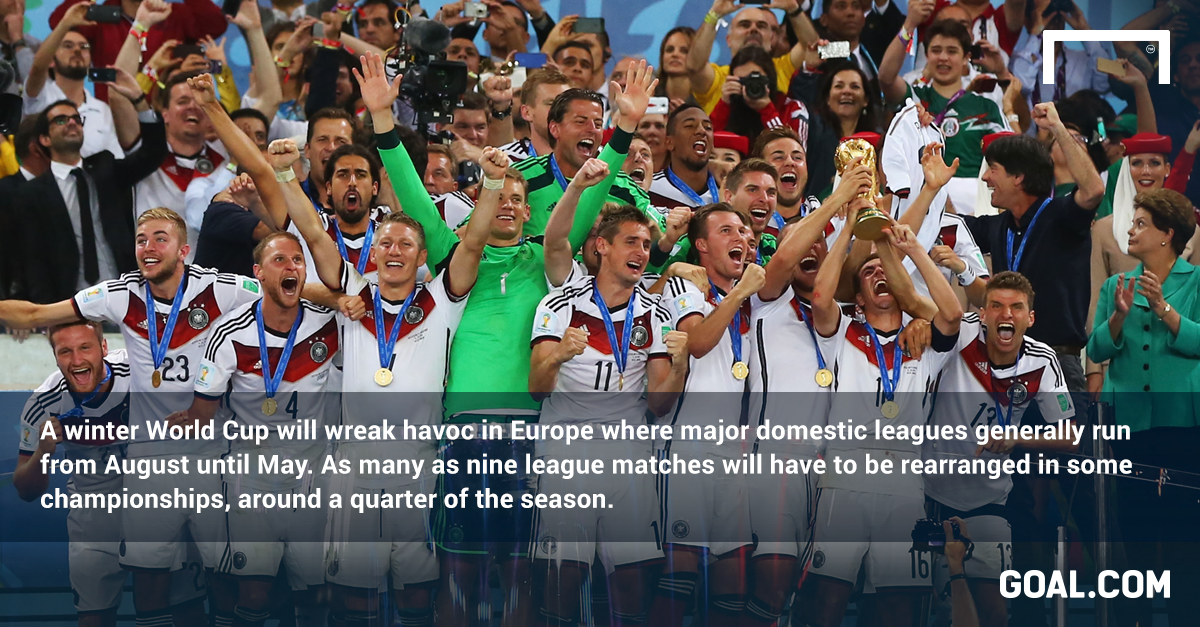 Compressing the calendar in September, October and in the New Year does not appear to be a particularly viable solution either. Due to European club competitions such as the Champions League and Europa League, national cups and European Championship qualifiers, two to three midweeks per month are already filled with football.
Some nations could curtail their mid-season breaks. The Bundesliga, for example, takes a five-week hiatus but, with the World Cup finishing just before Christmas, everywhere would need a minimum two-week gap before club football resumed. In the Premier League there is no break at all – the festive period is the busiest time of the year, with four games often played in 10 days. With a post-World Cup pause, these matches would be rearranged too.
The hazardous mid-season weather in countries like Croatia means that rescheduling matches before the resumption of the Champions League – in January (where there is no football) or early February – could also be challenging. Heavy rain and snow already makes Prva HNL matches at the end of February borderline in terms of safety. Matches contested any earlier in the year would endanger the health of the players.
The extra strain that will be placed on footballers around the world in the 2021-22 season is a matter of concern for FIFPro – the world players' union that represents more than 65,000 footballers.
"FIFPro is convinced that a switch to the winter months is the only viable solution to protect the health and safety of the players who will be competing at the 2022 World Cup," read a FIFPro statement on Tuesday.
"However, changes to the match schedule that could potentially place extra strain on the workload of the players is for FIFPro to analyse together with all stakeholders in due course."
Uefa has been accused of complicity with Fifa regarding the November start date in order to minimise disruption to the Champions League but at least three European group games would need to be rescheduled, while the quality of football in the latter stages will surely suffer. Come April and May, Europe's star players will be exhausted. On the other hand, players should be fresher for the World Cup.
The qualification campaign for Euro 2024 would also need to be redrawn. Uefa qualifiers start in the September after a World Cup with up to four matches played until November. These would likely be pushed back until 2023 – adding even more fixtures to a packed calendar.
The winter World Cup would also cause chaos outside of Europe. In South America, the Brazilian and Colombian (Clausura) seasons climax in November and December. Fifty to 60 Brazilian matches alone would need to be replayed. Argentina's new 30-team league would be less affected as it ends in the second week of November but the Copa Sudamericana – South America's version of the Europa League – would have to reschedule its two-legged knockouts from the quarter-finals onwards.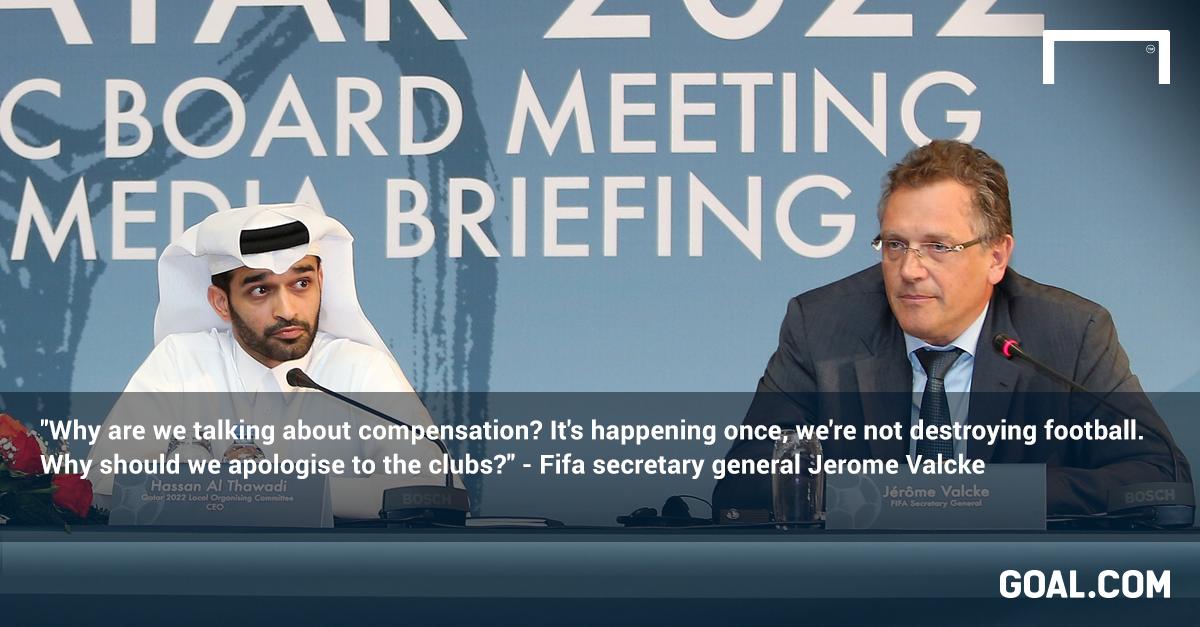 The Africa Cup of Nations is now held in January-February in every odd year. Jeremy Valcke has already confirmed that the 2023 Afcon in Guinea will be moved to June. That plan was not very well thought-out, though, as June is the beginning of the monsoonal rainy season in Guinea. The final Afcon qualifiers in November would also need to be reorganised, while the AFC Asian Cup in January would have to be switched to another time too.
Financially, it is hard to estimate just how much a winter World Cup would cost leagues and clubs but it will be significant. After all, the Premier League recently clinched a television deal worth £5.1 billion over three years. Will rights holders be willing to pay these kinds of astronomical figures given the disruption to the 2021-22 calendar?
To cite one simple example, most Italians are on holiday during August. An early Serie A start will therefore affect the value of the TV deal in Italy as the audience will be smaller. With Serie A clubs so reliant on broadcasting revenue in these trying times (and Parma set to be declared bankrupt), this is something the league could do without. Television companies will also be hit in the pocket as many will have a huge gap in their schedule not only in November and December but in June too.
In nations where football is not the most popular sport, a winter World Cup would result in significantly less interest from fans and television stations.
In the United States, the NFL and NCAA seasons will be in full swing with a number of key matches in November and December - the complete opposite of June, which is traditionally a quiet month in American sport. Similarly in Australia, the World Cup would clash with the AFL and NRL and would also compete with part of the Australian cricket season and summer test program.
But it is Europe where the biggest problems lie, not least because it is where the majority of World Cup internationals ply their trade.
"The European clubs and leagues cannot be expected to bear the costs for such rescheduling. We expect the clubs to be compensated for the damage that a final decision would cause," European Club Association (ECA) chairman Karl-Heinz Rummenigge stated.
All over the globe, the winter World Cup would have a huge negative effect in a sporting, financial and cultural sense. Once again, Fifa has scored an own goal and selfishly ignored the needs and wishes of the football community.
Join News Oga Black Berry Messanger Channel Today And Get Latest Updates.
Click Here To Join